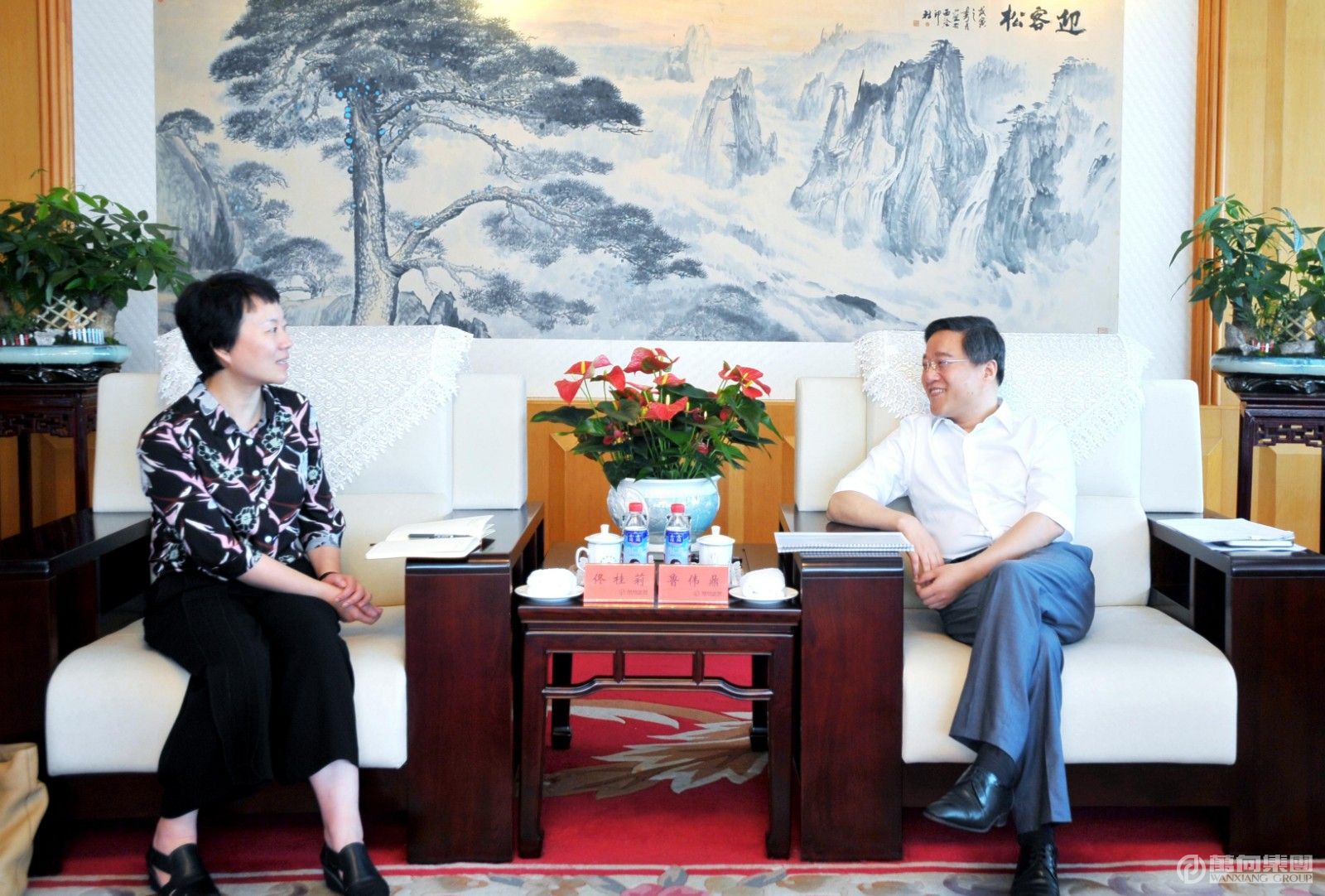 TONG Guili, member of the Standing Committee of Hangzhou Municipal Party Committee and Secretary of Xiaoshan District Party Committee, paid a visit to Wanxiang on the morning of 16th August. LU Weiding greeted TONG and thanked her for visiting on the third day of her tenure, which showed the great importance she attached to the group. TONG spoke highly of the group, appreciated Wanxiang spirit – work hard, innovate and maintain steady progress, and she encouraged the group to keep moving with the support of district Party committee and government.
In his report, LU pointed out that this year marked the 49th anniversary of Wanxiang and the 40th anniversary of the reform and opening up. Next year Wanxiang people will celebrate the 50th anniversary of the group, which has been developing steadily over the years. He also mentioned three key points of the group's future development: First, Summarize and extract the spirit of the board chairman; second, establish a stockholding system; third, Invest 200 billion Yuan in building Wanxiang Innovation & Energy-gathering City. On the basis of inheriting the ideology of "tell the truth and be practical", Wanxiang will stick to the steady development of the entity and keep setting and achieving the target of "ten-fold business volume in the next 10 years".
TONG pointed out that Wanxiang was a golden card and flag of Xiaoshan. It has developed from Xiaoshan, and now Xiaoshan is proud of it. She paid a visit here, on the one hand, to get an overall understanding of the group; on the other hand, she also wanted to know Wanxiang's development plan after LU Weiding took over the whole group. She was delighted and satisfied after LU's report. Wanxiang has developed into an evergreen in entrepreneurial and economic circles after 49 years of hard work, innovation and steady progress under the leadership of President LU Guanqiu. Wanxiang spirit not only marks high level, long-term vision, open mind and grand pattern but provides precious social wealth. Tong said that what made her happier was that LU has inherited and would carry forward those valuable elements. Wanxiang Innovation & Energy-gathering City, in particular, is a magnificent project, which let people know Wanxiang's devotion and realm. It is also a great project that no one has done before. To realize this innovative project, Wanxiang needs to make perfect planning.
TONG claimed that the district Party committee and government would fully support the development of Wanxiang, expecting the group to keep moving and making more contribution to the development of Xiaoshan. Meanwhile, Xiaoshan would always be the strong back of Wanxiang.
LU thanked TONG for all the support to Wanxiang Innovation & Energy-gathering City and promised to spare no efforts to achieve the scheduled targets. The group would make sure to follow TONG's advice and perfectly fulfill the tasks.
TONG was accompanied by principal leaders of Xiaoshan District Party Committee Office, Xiaoshan District Policy Research Office and Bureau of Economy and Informatization.